Bannockburn Battlefield Memorial Centre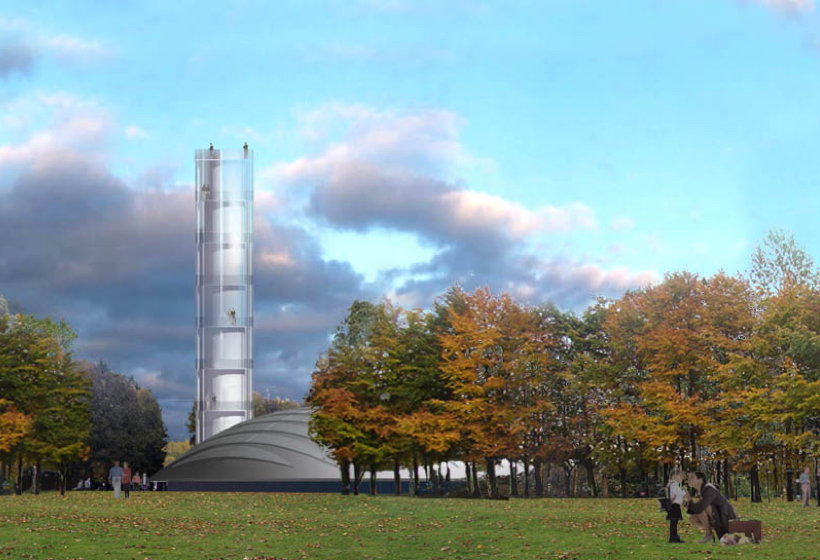 2003 - First Place in Two Stage Open Competition
Our proposal is to transform the site into a new wooded landscape through a sustainable landscape strategy and combine this with a unique new visitor centre and tower. In the same way that Stirling Castle and the Wallace Monument are strong symbolic icons in the valley setting, we believe that this site must also be able to signal itself from long distance vantage points. The new tower will connect visually, symbolically and mentally the Wallace Monument and the Castle, creating three icons in the landscape and assisting greatly in creating a bond between the historical events and the physical place.
The building should be a memorable icon of the day, and the inspiration for its form is drawn from the armour of the time - a hard, protective shell, imbued with memories of the soldiers' body armour, helmets, shields and even chain-mail. The simple shape of the building is formed with zinc and lead sheets on a timber structure, and is designed to allow a great deal of flexibility for future internal layout.
The tower is the climax of the journey. From the top, stunning views will open up to the landscape, providing the visitor with an overview of the site and its relationship to history. Rising above the trees, the tower also acts as a beacon for the whole visitor experience, and is a fitting tribute to the battle, and how the course of history was changed here.
Client - The National Trust for Scotland, Project Manager - Turner & Townsend, Structural - SKM Anthony Hunt
M+E - KJ Tait, Quantity Surveyor - CBA, Landscape Architect - John Richards