Canongate Venture, Edinburgh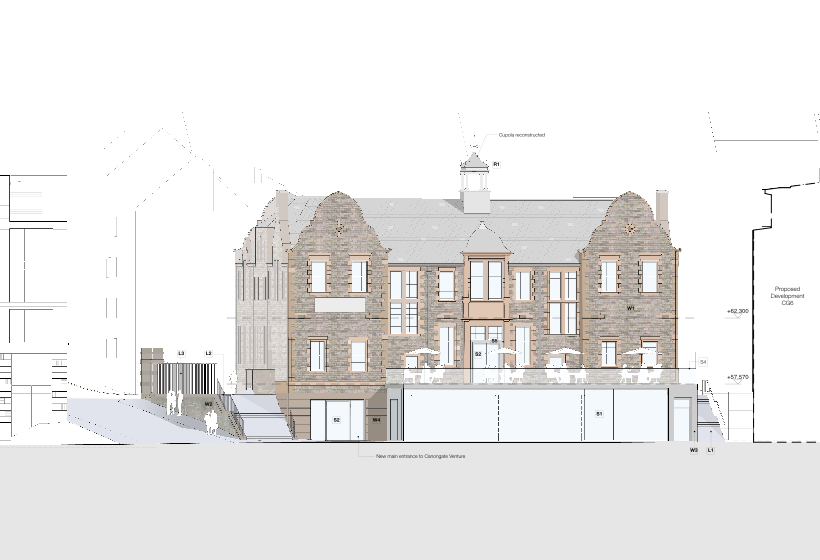 The Canongate Venture building forms part of the new Southern Site planning application for the Caltongate site to the North of the Royal Mile in the historic Old Town of Edinburgh.
The new planning approval includes the retention and restoration of this historic (C(s) Listed) Edinburgh 'board' School building. Adapting the building's atrium spaces internally the aim is to use these as a series of public and conference spaces, meeting rooms and restaurants.
Our design proposes the removal of the blank stone wall and front portion of the plinth play grounds that face East Market Street and the introduction of a new retail unit containing a cafe/restaurant with the aim of bringing back more street activity and opportunity for public amenity onto East Market Street. The upper levels are envisaged as terrace spaces overlooking the new public square that also link into the historic building at the main accommodation level.
Removal of some of the plinth also allows the creation of a new entrance under the north-east corner of the building, providing universal access into the building without interfering with the east and west doors which will continue to function as escape and access points.
The old School building's interior spaces, in particular the main atrium, is retained and carefully modified to accommodate new uses, and opening up the cill level of the centre windows to the south and north allows the addition of new terraces and also a new glazed conservatory.
Externally, the distinctive bellcote with cockerel weathervane will be restored.
The old School building will play an important role in the overall regeneration of the area linking to the past with a new lease of life for the future.
Night time images by Luma.