East Market Street Hotels, Edinburgh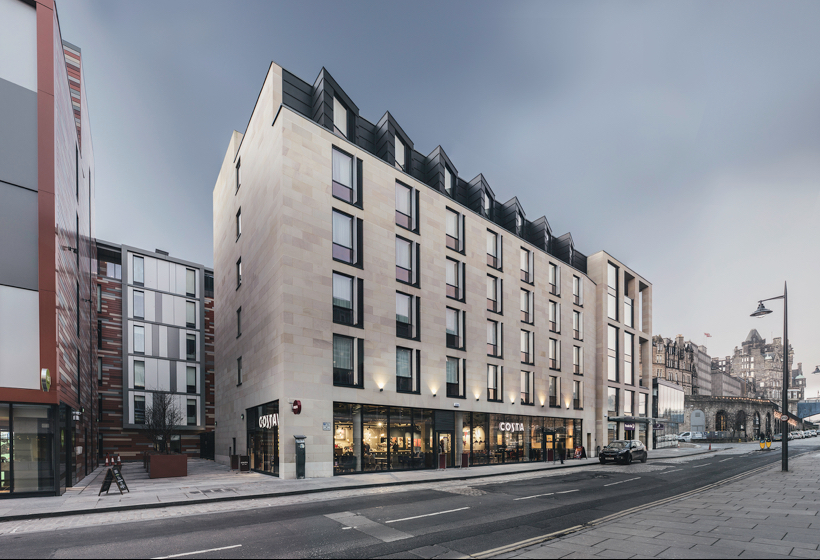 2011-2016
These buildings form part of the larger New Waverley masterplan and are now complete.
Retaining the Canongate Venture to the east of this site has allowed the creation of a pair of hotel buildings, each of differing character. The eastern one, clad in aluminium planks, flanks the existing Canongate Venture and is enlivened by colours sampled from the range of stone colours of the Venture.
The western hotel is stone clad. On East Market Street, it is set apart from the other building to allowing a new garden court space to be introduced. On the leading corner a tower composed of stone columns and beams establishes a strong urban marker, while the eaves of the adjacent wing step up Cranston Street in blocks, so that the mass of the building appears to step up with the topography of the site.
The massing of the building at its southern boundary is set back from and steps down with the language school, in order to reduce the impact on this neighbouring property. At the corner of East Market Street and Cranston Street, a triangular two storey restaurant drops the scale to maintain views of Calton Hill from the top of Cranston Street.
Built photos by McAleer & Rushe. Night time photomontages by Luma.
Client: New Waverley Limited
Contractor: McAleer & Rushe
Structural Engineer: Ian Black Consulting
MEP/BREEAM: Caldwell Consulting
M&E Engineer: Caldwell Consulting
Fire Consultant: MSA
Interior Designers: LMA