Merchiston Villa, Edinburgh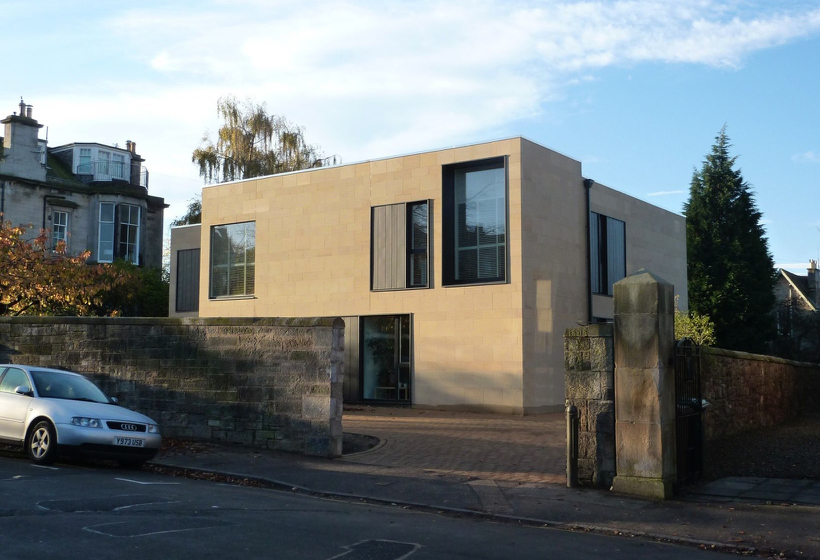 2007-2010
Shortlisted for a 2010 RIBA Award.
The site at Merchiston was originally the tennis courts contained within the double feu plot of the principal house at no.6. An existing 1960's bungalow was demolished.
The challenge of the design was to establish the building as a contemporary villa in the street. This required careful consideration of the scale of the openings and the composition of the facade. The principal frontage takes its width from the adjacent villas yet avoids any obvious stylistic reference to them. The building volume is cut back to allow greater views to the adjacent villa and to create a morning terrace to the east. The facade offers the street an abstract composition of elements where windows are set within larger openings of black zinc. Rather than the typical centred composition of entrance the corner window and entrance door are set at opposite corners and balance, and add scale to the composition.
The rear elevation reduces the stonework to a simple frame and the infill panels of large glass and crisp black zinc panelling create a sense of sliding walls of solid and glass.
The use of light and views are central to the design. The early morning sunlight comes into the kitchen and living areas, and as the sun tracks around the light is filtered through mature trees into the long glass wall that links the whole of the ground floor. This wall opens up to the garden and has has electrically operated blinds to modulate the sunlight. The rooflight floods the library and staircase with light and is oriented to squeeze the last of the west light of the day. The rooms facing the public street have sliding timber shutters that give a modulated light and privacy whilst giving a scale to the windows that matched the grandeur of Georgian neighbours.
The clients were very clear that they liked to live in an open plan series of spaces that can be one or be closed off into smaller areas. Large sliding doors were used to achieve a high degree of change in character. The living area merges into the dining space which again merges into the kitchen. Rather than bury them away, the stairs became an integral part of the character of the house - they become part of the central space linking the living to upstairs under a magnificent rooflight. The entry sequence takes a cut through the building linking the stair, rooflight and floor void into a single volume that transversely penetrates the building plan and links through to the garden beyond.
The construction uses highly insulated SIPs panels giving 240mm insulation to the walls and roof with rainscreen stone cladding, black patinated zinc panels and high performance glazing systems. The construction is also highly sealed to maintain heat integrity. The U-value is 0.15W/m2kg making the overall construction highly efficient.